Top 10 Best Mini Folding Electric Bikes in 2022
If you're looking for an electric folding bike that will make you faster than average, look no further in this article. We will talk about ten best electric folding bikes this folding bike is about as fast as you're going to get and it's also very easy to use. You just need a matter of seconds to set up the bike and you can use it for either commuting or speed riding so let's get started.
14-inch electric mini folding e-bike this electric bike is a great way to commute or explore. This bike is 14 inches in size and folds up for easy storage, this electric bike has a 30 to 37 miles per charge in pedal assist mode, making it perfect for short trips or long rides. The folding e-bike is easy to fold and transport and it's lightweight and easy to set up with a maximum top speed of 15.5 miles per hour this e-bike is fast and efficient making it perfect for city commuters and cyclists alike. The folding bike folds down to be easy to carry in store making it the perfect choice for on the go.
This folding e-bike has 36 volt 10 ampere of battery power and can fold up in just 30 seconds, making it easy to take with you wherever you go this 14 inches mini electric bike is perfect for the small budget cyclist. This folding e-bike has a 36 volt 10 ampere lithium ion battery that will give you hours of fun with its lcd display and battery level indicator. This bike is easy to operate and lets you know how much power you have left in the battery this e-bike is foldable for easy transport, and comes with a saddle and handlebars for a comfortable ride this folding electric bike. It offers high brightness headlights that will guide you through the darkness safely.
This bike is perfect for those who want an e-bike that offers high brightness headlights so you can navigate safely in the dark with this bike,you will be able to see your way ahead and avoid potential accidents.  The durable e-bike is designed with a comfortable seat so you can take it anywhere you go.
This mini electric bike is designed with highly durable vacuum tires for superior bike stability the bike also features a blowout resistant design so you can take on any terrain with ease with front and rear disc brakes this e-bike is easy to fold and carry whether you're looking for an easy ride or a durable bike that can handle the city the d3f is the perfect choice for you.
Buy DYU D3F: https://dyucycle.com/products/dyu-small-electric-bike-d3f
The next one on our list is a AOSTIRMOTOR folding electric bike this is the perfect choice for those who are looking for an electric bike that can handle the job with high speed power. This folding bike has a 500 watt high speed brushless motor that makes it easy to ride. It also has a strong driving force so you can make good time for your work. This folding electric bike comes with long endurance and removable 36 volt 13 ampere lithium battery that supports up to 25 miles per hour speed and you can travel with a 20 to 35 mile per ride. Its charging time is about four to six hours with the max distance feature you can easily find your way around. 
The electric bike is perfect for advanced riders who want to enjoy the outdoors with ease with its 866 lcd display and shimano outer 7 speed. This electric bike makes an excellent choice for those looking to explore the downtown area on the go. The foldable electric bike is perfect for riders who want to avoid muddy water splashes when riding in the park or go camping with a sleek modern design. This folding electric bike can keep you and your bike safe from puddles and dirt while you're out exploring the world with 20.4 inches fat tires and front and rear disc brake. It will protect you from all types of weather. You can ride on the beach in snow or take it to the next level with this next generation folding design. That is designed to fit most bikes. This is the perfect folding electric bike for anyone who wants an easy and convenient way to use it on the go. This small lightweight frame and handlebars make it easy to take with you anywhere you go. The light and strongaluminum alloy collapsible frame makes it easy to take on the go and it easily, stores into any vehicle.
The third one on our list is Swagtron EB7 plus. The EB7 plus is a true upgrade to its predecessor in every sense of the word. This electric commuter bike comes with the versatile 7-speed gear system for true multi-gear efficiency. It's light precise and consistent shifting riders expect from a bike and the eb7 plus
delivers a quick shift thumb button lets you easily shift up to higher gears for more precise shifting use the sti levers. And coast with confidence this pedal assist bike has a throttle only range up to 19 miles on a single charge with the capacity to cruise up to 18.6 miles per hour and conquer 25 degree inclines so
you can enjoy the commute to work or school without having to worry about the battery being too low or running out of power. Plus it's the perfect size for anyone who wants to try out this bike in their backyard or on a beach vacation. The eb7 elite plus folding electric bike is perfect for those looking for an easy and convenient way to get around it. Comes with a 36 volt lithium ion battery that charges in three to four hours and is ready for use again in just few hours. Plus you can grab an extra battery and keep it as a spare whenever you need it. With its key secured compartment and protected battery you can rest assured that your battery is safe from dirt and splash. The electric bike is the perfect choice for anyone looking for an enhanced rear suspension and city commuting with 16 inches wheels and an enhanced rear suspension this electric commuter bike handles beautifully get the ultimate in stopping power with this electric folding bik. With dual disc brakes, it can handle any terrain. With ease and a strong suspension capacity, makes it easy to get the best pedaling performance out of this bike. Also it comes with a one-year warranty.
The Scrambler would've easily won a competition for the most innovative and stylish electric dirt bike if there were one.

Available in a Camp and City model, both built on our industry-leading 52V battery platform and custom 750W motor, the Scrambler is the ultimate e-bike adventure vehicle. The CampScrambler is equipped with knobby tires for on and off-road adventuring, while the CityScrambler offers mag wheels and street tires for low maintenance urban explorations. Getting from here to there has never been more fun or looked so good.
The RX features all of SUPER73's iconic features, the powerful R-series drive system, along with upgraded brakes and fully adjustable dual suspension, making the RX our top-of-the-line model.
The SUPER73 is a high performance electric motorbike that does not require a license, insurance, or registration. All bikes comes with a battery that you can easily charge with any standard 110v outlet. On this model, the battery is removable with a key, making it easy to charge both at home and in-between rides.

Riding the EMOVE Roadrunner may be addictive. It isn't an e-bike – it's so much better. Our flagship seated electric scooter has a striking, unique design that delivers on form and function. With dual hub motors and a 48V 26.1 Ah Dynavolt removable battery, the Roadrunner gives you up to 53 miles of range. It has a memory foam seat, adjustable handlebars, and thumb throttle to keep you riding comfortably at up to 34 mph. With improvements from the prototype to the current model, the RoadRunner electric scooter comes with a larger (wider and longer) and more plush seat, front fender and longer carbon fiber rear fender, single/dual motor modes, longer foot pegs, Xtech hydraulic brakes, a brighter headlight, and rear turn signals. There has never been a seated scooter like this.
The RadMini 4 is a 20" folding electric bike with wide tires. It has a maximum speed of 25 mph. The bike has seven speeds and five levels of pedal assist. The kickstand is adjustable and sturdy. The bike comes with a bell, cadence sensor and ergonomic grips. The LCD screen is easy to ready with its simple backlit screen. The bike is only available in one size.
The three-model Generation Four family (G4, G4i and G4i+) are specified with a new G4drive™ electric motor, an all-new carbon fibre mid-frame, a single-sided carbon fibre front fork, a fully-integrated USB port for phone charging on the go, new high-performance MotoGP-inspired tyres and low energy bluetooth, for an improved Gocycle App connectivity.
Once you've got into the swing of things the Brompton M6L Electric rewards you with versatile performance, with those three levels of pedal assist designed to suit different riders and gradients. Luckily you don't have to pre-assign the assistance mode as it can be done on the move, but it's not the most intuitive of systems.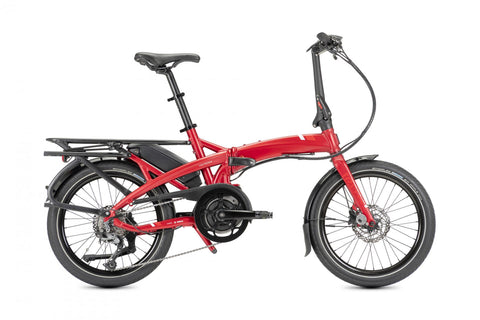 The Vektron Q9 offers a unique approach to frame design. With a telescopic seat post and adjustable angle stem, it can accommodate riders from 4ft 10 to 6ft 5. A bike that suits all.